Welbeck sertai Watford selepas tinggalkan Arsenal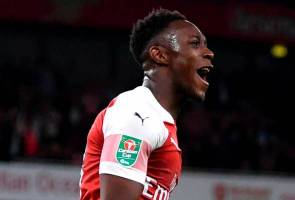 DANNY Welbeck melengkapkan perpindahannya ke Watford selepas meninggalkan Arsenal pada penghujung musim 2018-19.
Bekas penyerang Manchester United itu tidak ditawarkan kontrak baru oleh The Gunners selepas menyertainya pada 2014.
Everton dan Newcastle United dikhabarkan berminat untuk mendapatkan pemain kebangsaan England itu, namun The Hornets mengesahkan kemasukan Welbeck menerusi kiriman Twitter.
Ketibaan pemain berusia 28 tahun itu di Vicarage Road mungkin akan disertai pemain sayap Rennes, Ismaila Sarr, dengan Watford dilaporkan sedang berbincang dengan pasukan Ligue 1 itu mengenai perpindahan yang mungkin memecahkan rekod kelab berkenaan.
Faktor kecederaan menjejaskan prestasi Welbeck sepanjang musim lalu apabila dia hanya dapat melakukan 14 penampilan dalam kesemua kejohanan di samping menghasilkan lima gol.
sumber :astroawani