Video muzik 'Boy With Luv' BTS cecah 500 juta tontonan!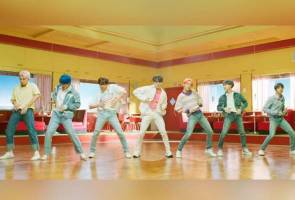 DALAM tempoh empat bulan sahaja, lagu fenomena kumpulan popular dari Korea Selatan, BTS '
Boy With Luv
' bersama penyanyi antarabangsa, Halsey kini sudah meraih sebanyak 500 juta tontonan di saluran YouTube.
'Boy With Luv' yang menjadi lagu utama bagi album 'Map of The Soul: Persona' itu dilancarkan pada 11 April lalu dan genap pada 11 Ogos, jumlah tontonan bagi muzik video lagu berkenaan mencecah 500 juta tontonan.
Itu sekaligus menjadikan BTS sebagai selebriti Korea Selatan pertama dengan lebih daripada 500 juta tontonan di YouTube untuk setiap tujuh video muziknya, termasuk "DNA," "Fake Love," "MIC Drop Remix" dan "Idol."
Setakat ini, muzik video "DNA" mencatatkan seramai 800 juta penonton, menjadikan ia tontonan yang paling banyak bagi lagu kumpulan septet ini.
Selain itu, lagu 'Boy With Luv' ini juga memecah rekod dengan memenangi tiga Rekod Dunia Guinness berkaitan dengan video YouTube yang paling banyak ditonton dalam masa 24 jam selepas dilancarkan.
Mana tidaknya, dalam masa 24 jam sahaja seramai 78 juta tontonan dicatatkan bagi muzik video lagu 'hit' kumpulan BTS ini.
Hakikatnya, banyak lagi pencapaian yang dibawa oleh BTS, antaranya ialah 'Boy With Luv' mencapai angka 10 juta, 20 juta, 30 juta, 40 juta, 50 juta, 60 juta dan 70 juta yang terpantas dalam sejarah YouTube.
Bukan itu sahaja, 'Boy With Luv' menempa rekod untuk artis K-pop yang paling ramai di aplikasi strim muzik 'Spotify' dengan jumlah 5,941,723 aliran.
Agaknya, selepas ini apakah pencapaian yang akan dicapai oleh kumpulan fenomena ini, kita tunggu dan lihat?
sumber :astroawani