TWICELIGHTSinKL: TWICE, ONCE Malaysia akhirnya bersua di konsert jelajah dunia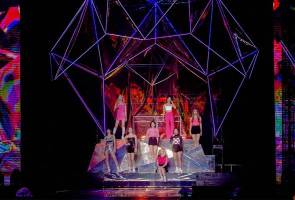 CUKUP menakjubkan!
Tiada perkataan lain yang sesuai bagi menggambarkan konsert sulung kumpulan Korea Selatan terkenal, TWICE di pentas Malaysia di Stadium Axiata Arena pada Sabtu.
Konsert Jelajah Dunia 2019 'TWICELIGHTS' di Kuala Lumpur hasil anjuran iME Malaysia menandakan pertama kalinya pertemuan 'rasmi' di antara TWICE dan fandomnya ONCE.
Apatah lagi apabila konsert awal kumpulan ini di Malaysia pada Julai tahun lalu dibatalkan atas faktor keselamatan.
BACA: TWICE bakal 'Cheer Up' Once di Kuala Lumpur Julai ini

BACA: Kenapa kumpulan K-Pop, TWICE batal konsert di Malaysia pada saat akhir?
Pastinya peluang kedua ini tidak mahu dilepaskan kalangan ONCE yang rata-ratanya ternanti-nanti untuk bersua dengan idola kegemaran mereka.
TWICE membuktikan penantian itu berbaloi apabila membuka tirai persembahan dengan 'Stuck In My Head', lagu yang menaikkan semangat ONCE dengan tempo lagu yang rancak.
Biarpun kumpulan nonet itu hanya tampil berlapan tanpa Mina, namun persembahan nyanyian dan koreografi Nayeon, Jeongyeon, Momo, Sana, Jihyo, Dahyun, Chaeyoung dan Tzuyu tiada cacat celanya.
Mina tidak hadir kerana masih belum sembuh daripada gangguan kebimbangan (anxiety) and perasaan gusar untuk membuat persembahan.
Lapan gadis jelita tersebut terus menghiburkan ONCE dengan lagu-lagu hit mereka seperti 'Cheer Up' dan 'Touch Down'.
Pada 'ment' (masa yang diperuntukkan untuk penyanyi memperkenalkan diri, bercakap dengan peminat dan menutup konsert), mereka memperkenalkan diri dalam Bahasa Melayu dan mendapat sorakan gemuruh daripada ONCE.
Ketua kumpulan itu, Jihyo berkata beliau masih ingat akan pembatalan konsert pada tahun lepas dan berkata mereka kini tampil untuk membuat persembahan untuk ONCE.
Kira-kira 10,000 penonton yang hadir dihiburkan lagi dengan lagu-lagu hit mereka seperti "BDZ (Bulldozer)", "YES or YES" dan "Dance The Night Away".
Mereka juga tampil untuk menyanyikan 'cover' lagu Bahasa Inggeris Jackson 5 iaitu "I Want You Back" yang sememangnya menaikkan mood peminat.
Selepas menukar pakaian mereka kepada gaun putih, lapan bidadari tersebut mendendangkan lagu yang bertempo perlahan iaitu "After Moon."
Pada 'ment' kedua pula, TWICE mendedahkan bahawa lagu "You In My Heart" yang bakal didendangkan merupakan lagu yang ditujukan khas buat ONCE.
Antara seleksi lagu lain yang diperdengarkan pada konsert yang bermula jam 4.30 petang tersebut ialah "Sunset", "Heart Shaker", "Strawberry" dan "Woohoo".
Idola-idola kesayangan ONCE juga membuat persembahan menerusi tiga sub-unit.
Unit pertama yang dianggotai Sana, Dahyun dan Tzuyu (SaDaTzu) mempersembahkan "Dance For You" yang merupakan 'cover' lagu penyanyi Amerika, Beyoncé.
Unit kedua pula dianggotai Jihyo dan Momo (JiMo) mempersembahkan 'cover' lagu "Goodbye" oleh ahli kumpulan SHINee Taemin yang terkenal dengan koreografi yang sukar dengan sempurna sekali.
Nayeon, Jeongyeon dan Chaeyoung (NaJeongChae) yang menganggotai unit ketiga memberikan persembahan terbaik menerusi 'cover' lagu "Born This Way" oleh penyanyi dan pelakon Hollywood, Lady Gaga.
Selepas berehat seketika, kelapan-lapan idol tersebut kembali ke pentas dengan set hologram yang berbentuk prisma dan mengenakan 'outfit' baharu yang berwarna merah jambu serta menyampaikan "Likey" dan "What Is Love".
Mereka kemudiannya menjelaskan konsep persembahan unit masing-masing pada 'ment' ketiga.
Pastinya lagu-lagu yang paling dinanti-nantikan oleh ONCE ialah "Like Ooh-Aah", "T.T" dan "Fancy".
TWICE tampil dengan kejutan 'dance break' pada lagu "Fancy" sekali gus membuktikan bahawa mereka bukan sahaja mampu tampil dengan persembahan yang penuh bertenaga, malah juga dapat mengekalkan vokal yang tinggi.
Setiap elemen termasuk sistem pencahayaan, mainan visual pada skrin dan kesan khas membabitkan bunga api dan asap menambahkan keterujaan penonton.
Sambil menunggu penyanyi K-Pop kegemaran mereka untuk kembali semula ke pentas, ONCE dihiburkan dengan video interaktif dalam bentuk 'mission' yang memerlukan penyertaan mereka.
Sejurus selepas selesainya video interaktif tersebut dimainkan, TWICE menghantar "Signal" kepada ONCE.
Dalam pada itu, peminat TWICE memberikan kejutan dalam bentuk video yang menceritakan keterujaan ONCE apabila mereka mendapat tahu bahawa idola mereka akan mengadakan Konsert Jelajah Dunia 2019 'TWICELIGHTS' di Kuala Lumpur.
Video tersebut berakhir dengan lirik lagu 'Be As One' dan stadium tersebut bergema dengan nyanyian ONCE ini.
Suasana konsert tersebut bertukar sedih apabila kelapan-lapan ahli tersebut memberikan komen tentang video berkenaan dan mengakhiri komen mereka dengan ayat dalam Bahasa Malaysia.
Ayat seperti 'ONCE, kamu paling baik', 'aku cinta padamu' dan 'tolong ingat saya sampai kita jumpa lagi' yang diluahkan membuktikan menunjukkan bahawa mereka sanggup belajar bahasa yang baharu supaya lebih rapat dengan peminat tempatan.
'Rapper' kumpulan tersebut, Dahyun tidak dapat menahan sebak di dada semasa memberikan komen kerana teringat akan Mina yang tidak dapat menyertai mereka pada konsert di Kuala Lumpur pada kali ini.
"Mina 'eonni' tidak dapat menyertai kami tetapi dengan 'Candy Bong' yang bersinar pada malam ini, saya merasakan kehadirannya bersama kami di sini.
"Terima kasih kerana menunggu kami dan TWICE akan kembali lagi. Sila tunggu kami.
"Terima kasih. ONCE, kamu paling baik!" beliau sempat akhiri komennya dalam Bahasa Melayu yang mendapat sorakan gemuruh daripada para hadirin.
Sementara itu, 'visual' kumpulan tersebut Tzuyu bertutur dalam Bahasa Cina dan memberikan mesej khas buat peminatnya yang memahami bahasa tersebut.
"Saya ingin mengucapkan terima kasih secara ikhlas kepada anda kerana menyokong dan sayang pada saya. Kami telah membuat debut sejak empat tahun lalu dan masih terdapat ruang untuk penambahbaikan.
"Saya akan terus bekerja keras dan membawa persembahan yang lebih baik untuk anda.
"Jangan tinggalkan kami. ONCE! Aku cinta padamu!" kata Tzuyu dalam bahasa Cina.
Sebelum melabuhkan tirai konsert dengan lagu 'Stuck', mereka sekali lagi kembali ke set hologram berbentuk prisma untuk keluar dari pentas.
Konsert yang cukup menghiburkan ONCE dengan persembahan 25 lagu dalam tempoh dua jam setengah itu nyata tidak mengecewakan peminat yang hadir malah turut meninggalkan kenangan yang amat manis buat mereka.
Pengakhiran 'TWICELIGHTS' di Kuala Lumpur juga menandakan berakhirnya konsert jelajah tersebut.
Konsert Jelajah Dunia 2019 'TWICELIGHTS' melibatkan lapan lokasi yang lain iaitu Seoul, Bangkok, Manila, Singapore, Los Angeles, Mexico City, Newark dan Chicago.
Adakah ONCE ternanti-nantikan kehadiran TWICE sebagai One True 9 (OT9) pada tahun hadapan?
Kongsikan keterujaan anda di ruang komen di bawah!
sumber :astroawani