Tukar nama sempena Hari Merdeka, jenama makanan segera ini terima pujian


RESTORAN makanan segera popular, McDonald's meraikan sambutan Hari Kebangsaan ke-62 dengan menukar nama restoran mereka.
Sering dipanggil menerusi nama pendek 'McD', Mcdonald's Malaysia mengambil inisiatif jiwa Malaysia dengan menggunakan nama 'Mekdi'.
Memetik laporan New Straits Times (NST), selama 37 tahun makanan segera ini bertapak di tanah air, rakyat Malaysia sentiasa memberikan sokongan yang tidak putus.
"Jadi, kami berhasrat untuk menukar nama jenama kami kepada nama panggilan kegemaran rakyat Malaysia," kata Timbalan Presiden dan Ketua Pegawai Pemasaran McDonald's Malaysia, Melati Abdul Hai kepada NST.
Nama baru ini ditukarkan hanya di cawangan McDonald's Bukit Bintang sahaja yang merupakan lokasi pertama jenama ini bertapak di Malaysia.
Di laman sosial, netizen turut sama memuji usaha jenama ini dalam menyuntik elemen lokal dalam kempen kemerdekaan kali ini.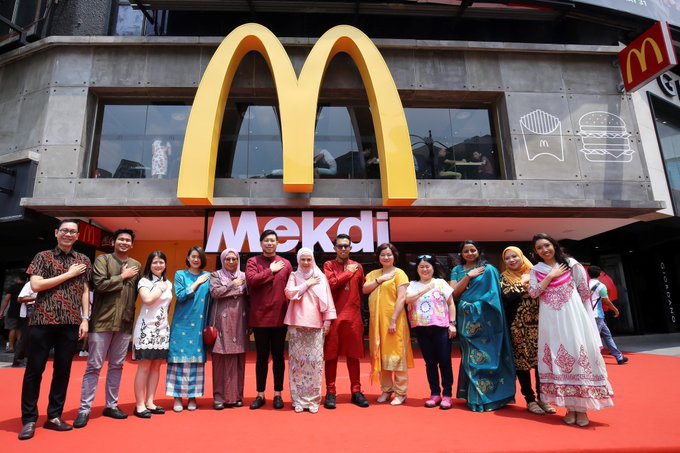 "Bagus utamakan citarasa tempatan dalam kita menyambut bulan kemerdekaan 31 Ogos ini," komen seorang netizen.

"I just went and shocked like this can't be real, lmao. but it is, that's how we roll it," puji seorang netizen.

"Ala tukar je lah terus. Negara lain okay je tukar ikut sebutan diorang huhuhuhu," cadang seorang netizen.

"Kepsi mana?" tanya seorang netizen kepada pesaing rapat Mekdi.

Seiring dengan bulan kemerdekaan juga, Mekdi turut memperkenalkan menu Nasi Lemak yang merupakan hidangan kegemaran rakyat Malaysia.

sumber :astroawani