Tapak pelanggaran gajah, kereta api di Teluk Intan perlu diwartakan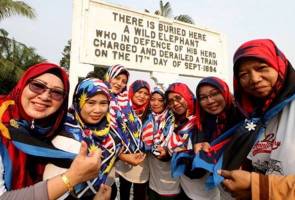 TELUK INTAN
: Tapak pelanggaran kereta api dengan gajah di Sungai Kerawai di sini perlu diwartakan sebagai tapak warisan negara kerana mempunyai kisah sejarah sekali gus berpotensi menjadikan destinasi kunjungan pelancong.
Setiausaha Persatuan Pelancongan Teluk Intan, Iskandar Zulqarnain Zaheruddin, berkata pihaknya telah memohon kepada Jabatan Warisan Negara untuk mewartakan tapak memorial itu yang dibina selepas insiden pelanggaran antara seekor gajah jantan dengan sebuah kereta api pada 17 Sept 1894.
"Kita berharap maklum balas yang positif daripada Jabatan Warisan Negara," katanya selepas program gotong royong membersihkan kawasan tapak itu sempena sambutan ulang tahun ke-125 Pelanggaran Gajah dan Keretapi Sungai Kerawai, di sini, pada Sabtu.
Program gotong-royong tersebut disertai kira-kira 60 orang terdiri daripada anggota persatuan, penduduk setempat serta Majlis Perbandaran Teluk Intan.
Iskandar Zulqarnain berkata pihaknya turut memohon kepada Keretapi Tanah Melayu Berhad (KTMB) agar meletakkan sebuah kepala gerabak kereta api dan membina landasan sepanjang 30 meter di tapak tersebut supaya pelancong dapat mengimbau kembali nostalgia peristiwa berkenaan.
"Kita sudah menerima maklum balas yang sangat positif (daripada KTMB) mengenai perkara itu dan kita menjangkakan ia dapat dibina pada tahun depan. Kita juga akan memperindahkan kawasan tapak perlanggaran ini dengan menyediakan taman bunga," katanya.
Selain itu, beliau berkata usaha untuk menempatkan tengkorak gajah terlibat yang kini ditempatkan di Muzium Perak, Taiping ke tapak memorial tidak diterima oleh pihak Ketua Pengarah Muzium Negara atas faktor keselamatan selain keadaan fosil itu yang agak rapuh.
"Tengkorak dan gading gajah itu telah dipamerkan di Muzium Perak, Taiping dan tulang paha pula dipamerkan di Muzium KTMB di Johor Bahru manakala bangkai gajahditanam di sini (tapak memorial) ," katanya.
Iskandar Zulqarnain berkata mengikut sejarah, semasa kejadian pada pukul 7 malam itu, seekor gajah jantan liar maut apabila mempertahankan kawanannya yang menyerang dan mengelincirkan kereta api penumpang semasa dalam perjalanan dari Teluk Anson (nama Teluk Intan ketika itu) ke Tapah Road.
Katanya, seorang pemandu kereta api turut terkorban dan berita mengenai insiden itu tersebar ke London sehingga seterusnya pihak kolonial mendirikan sebuah memorial di tapak tersebut sebagai mengenang keberanian gajah dan peristiwa yang tidak pernah berlaku sejak kereta api diperkenalkan di negara ini.
Tertera di memorial itu "There Is Buried Here A Wild Elephant Who In Defence of His Hero Charged and Derailed A Train on the 17th Day of September 1894".
— BERNAMA
sumber :astroawani