Skala pencarian Nora Anne diperkecil, fokus lokasi utama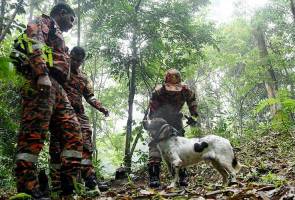 NILAI
: Pihak polis mengambil keputusan untuk mengecilkan skala pencarian kepada empat zon dalam mengesan remaja perempuan warganegara Ireland, Nora Anne Quoirin yang hilang di pusat pelancongan di The Dusun Hill Resort.
Ketua Polis Negeri Sembilan, Datuk Mohamad Mat Yusop berkata pihaknya percaya mangsa tidak akan berada jauh dan pasukan pencarian akan meneliti kawasan yang menjadi fokus utama.
"Kita percaya mangsa tak akan berada jauh dari kawasan, kita fokus pencarian di kawasan curam, celah semak, kawasan batu serta kawasan penginapan keluarga mangsa,' katanya ketika sesi sidang media pada Sabtu.
Ditanya sekiranya kehilangan remaja itu mempunyai kaitan dengan kes penculikan, Mohamad berkata tiada sebarang bukti dikesan untuk mengaitkan ia dengan kes penculikan.
Dalam perkembangan lain, pihak polis juga telah merakam keterangan pemandu teksi yang dikatakan membawa keluarga mangsa tersebut ke pusat pelancongan.
Menyentuh mengenai kekuatan anggota pihaknya buat masa ini telah menambah kekuatan anggota sebanyak 317 anggota secara keseluruhan berbanding jumlah asal iaitu 261 anggota.
Setakat ini pihak polis memaklumkan masih tiada sebarang tanda atau petunjuk yang membawa kepada penemuan remaja perempuan berkenaan yang telah memasuki hari ketujuh.
Polis juga tidak meletakkan sebarang tempoh bagi operasi berkenaan dan akan diteruskan seperti biasa.
Nora Anne yang mengalami masalah lembam sebelum ini dilaporkan hilang ketika menginap di The Dusun Pantai Hill Resort pada Ahad lalu sebelum pihak berkuasa melancarkan operasi mencari dan menyelamat (SAR) di kawasan berkenaan.
sumber :astroawani