Red Devils tewas disambar helang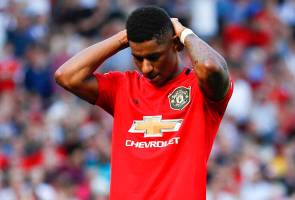 MANCHESTER UNITED 1-2 CRYSTAL PALACE
CRYSTAL PALACE mengejutkan Manchester United di kubu kuat pasukan the Red Devils itu dengan kemenangan 2-1 di Old Trafford pada Sabtu.
Jaringan pertahanan Palace, Patrick van Aanholt, pada minit ketiga masa kecederaan memastikan the Eagles membawa pulang tiga mata berharga pulang ke London.
Perlawanan itu turut menyaksikan Marcus Rashford gagal menyempurnakan penalti pada minit ke-70.
Di sebalik penguasaan permainan United pada babak pertama, Palace mendahului perlawanan menerusi Jordan Ayew pada minit ke-32, selepas menerima hantaran yang ditanduk Jeffrey Schlupp.
United mendapat penalti selepas Scott McTominay dijatuhkan dalam kotak penalti, namun Rashford tendangannya terkena tiang.
Ini merupakan penalti kedua berturut-turut dimenangi United, namun gagal dimanfaatkan selepas Paul Pogba gagal menyempurnakan penalti menentang Wolverhampton pada Isnin.
Akibat kegagalan itu, United seri 1-1 dengan Wolves, namun lebih malang kali ini, the Reds Devils tumbang di halaman sendiri.
Pemain baru the Red Devils, Daniel James berjaya menjaringkan gol penyamaan seminit sebelum masa sebenar permainan tamat.
Namun hasrat United untuk sekurang-kurangnya mengutip satu mata dihampakan Van Aanholt, yang meledak gol kemenangan pada minit ke-93.
sumber :astroawani