"Penceroboh pusat kusta akan dikenakan tindakan" – Tun Mahathir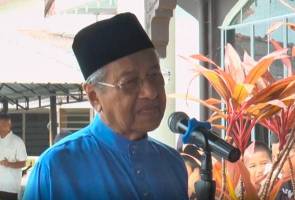 LANGKAWI
: Pihak yang bertanggungjawab menceroboh Pusat Kawalan Kusta Negara (PKKN) di Sungai Buloh akan dikenakan tindakan, tegas Perdana Menteri Tun Dr Mahathir Mohamad.
Beliau berkata kerajaan akan mengambil tindakan bagi mengelak kawasan itu dari terus dicerobohi.
"Kita kena ambil balik. Orang ini (penceroboh) tahu kawasan itu dia tak boleh masuk – haram, bukan milik dia, tetapi buat juga.
"Bila kita bertindak dia marah tetapi dia yang pecah (langgar) undang-undang. Kita nak betulkan undang-undang kita dengan the rule of law (kedaulatan undang-undang), … bila buat salah kita kenakan tindakan," kata Tun Mahathir kepada pemberita selepas menghadiri Majlis Ramah Mesra bersama penduduk sempena majlis korban di Masjid Al Huda, Padang Matsirat di sini hari ini.
Dr Mahathir yang juga Ahli Parlimen Langkawi berkata demikian ketika diminta mengulas laporan sebuah harian nasional hari ini mengenai tanah kerajaan di PKKN diceroboh dengan perusahaan penanaman rumput dan nurseri.
PKKN terletak 25 km dari Kuala Lumpur, dibuka oleh Kerajaan British pada 1930 sebagai tempat mengasing dan merawat pesakit kusta (leprosy) pada tempoh awal tercetusnya penyakit itu.
Ia dikatakan pusat leprosy kedua terbesar di dunia pada ketika itu.
Pada masa kemuncak terdapat 2,000 pesakit atau penduduk di situ.
Kini terdapat hanya 200 orang yang masih tinggal di situ. Yang lain telah meninggal dan ada yang berpindah keluar.
Yang masih di situ mengusahakan tanaman rumput dan nurseri untuk menyara kehidupan.
Pada 2011, kawasan ini diisytihar sebuah Warisan Negara, dan sebuah muzium dirancang di situ.
— BERNAMA
sumber :astroawani