Muslihat menantu Trump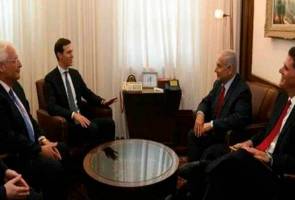 WASHINGTON
: Penasihat Kanan Presiden Amerika Syarikat (AS), Jared Kushner mengadakan pertemuan dengan Perdana Menteri, Benjamin Netanyahu sebagai sebahagian daripada lawatan serantau di Timur Tengah untuk mempromosikan pelan damai kontroversi yang kononnya dapat menyelesaikan konflik Israel-Palestin.
Menurut pejabat Perdana Menteri, Netanyahu bertemu dengan Kushner di Baitulmaqdis dan turut disertai Utusan Khas AS di Timur Tengah, Jason Greenbalt, Wakil Khas AS di Iran, Brian Hook, Duta AS ke Israel, David Friedman dan Duta Israel ke Washington, Ron Dermer.
Bagaimanapun, tiada butiran lanjut tentang mesyuarat itu.
Agensi berita Xinhua memetik kenyataan pegawai Israel melaporkan pertemuan itu memberi tumpuan untuk merealisasikan pelan damai digelar sebagai 'Deal of the century'.
Sementara itu, akhbar Israel, Yedioth Ahronoth mendakwa menantu Trump tersebut cuba untuk mengadakan sidang kemuncak diplomatik bagi meraih sokongan terhadap pelan damai berat sebelah tersebut yang akan menjemput wakil dari negara Arab di Kem David sebelum Pilihan Raya Israel bulan depan.
Akhbar itu menyifatkan 'Deal of the century' yang berpihak kepada Israel sebagai 'hadiah pilihan raya' untuk Netanyahu.
BACA: Bekas pengerusi Hamas temui Dr Mahathir
BACA: Majlis Peguam Palestin berhasrat saman peserta persidangan tajaan AS di Bahrain
Perjanjian yang diumumkan Kushner ketika sidang kemuncak di Bahrain pada Jun lalu menyebut AS akan menyuntik AS$50 bilion (RM207 bilion) kononnya untuk membantu ekonomi di Timur Tengah untuk tempoh 10 tahun akan datang.
Kesemua puak di Palestin bagaimanapun memboikot acara itu dan turut menolak inisiatif pelan damai tersebut kerana mendakwa Washington cuba mengaburi mata mereka dengan ganjaran wang untuk menerima pendudukan Israel. – Agensi
VIDEO: 30 ribu rakyat Palestin lakukan protes besar-besaran
VIDEO: Empat rakyat Palestin terkorban dalam protes terbaru
BACA: Malaysia kutuk tindakan Israel ke atas penunjuk perasaan 'Great March of Return'
sumber :astroawani