Meskipun berusia puluhan tahun, aset TLDM masih mampu beroperasi- Panglima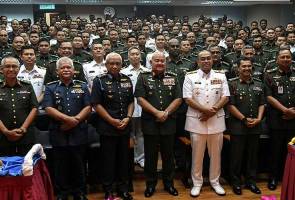 KUALA LUMPUR
: Aset pertahanan milik Tentera Laut Diraja Malaysia (TLDM) masih lagi mampu berfungsi melaksanakan operasi ketenteraan meskipun berusia puluhan tahun.
Panglima TLDM Datuk Mohd Reza Mohd Sany berkata aset-aset seperti KD Perdana masih berupaya belayar, menembak meriam dan melakukan pelbagai operasi lain.
"Sebagai contoh KD Perdana telah berusia 47 tahun dan kini ia berfungsi tetapi bukan 100 peratus kerana sebahagian keupayaan asalnya tidak boleh dikekalkan kerana isu keusangan.
"Aset-aset ini bagaimanapun tidak mempunyai masalah untuk belayar dan menembak meriam," katanya kepada pemberita selepas Majlis Penganugerahan Hall Of Fame ke-14 di Maktab Turus Angkatan Tentera (MTAT) di sini, hari ini.
Mengulas lanjut, Mohd Reza berkata Menteri Pertahanan Mohamad Sabu yang melawat KD Perdana di Kuantan, Pahang semalam turut berpuas hati dengan cara TLDM menyelenggara aset itu.
"Menteri telah melihat sendiri keupayaan aset-aset TLDM dan mungkin dapat jelaskan apa yang dilihatnya semalam kepada Kabinet," katanya.
Sementara itu, beliau berkata TLDM akan terus membantu pelaksanaan Ops Naga yang diketuai Agensi Penguatkuasaan Maritim Malaysia bagi memastikan perairan negara terjaga.
Pada majlis itu, Mohd Reza dilantik secara rasmi sebagai anggota ke-14, Hall of Fame MTAT dan menerima satu momento sebagai simbol penghormatan dan pengiktirafan daripada Panglima Angkatan Tentera Malaysia Jen Tan Sri Zulkifli Zainal Abidin
Hall of Fame merupakan satu pengiktirafan yang diberikan kepada alumni MTAT yang memegang jawatan tertinggi dalam perkhidmatan dalam dan luar negara.
— BERNAMA
sumber :astroawani