Merungkai misteri kehilangan individu di kawasan hutan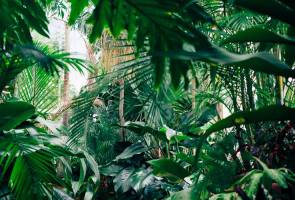 DAVID PAULIDES
merupakan seorang pesara detektif polis yang mempunyai pengalaman 20 tahun dalam bidang penyiasatan.
Kini beliau memilih untuk menjadi seorang penulis, pengkaji dan wartawan penyiasat mengenai kes-kes kehilangan individu di kawasan hutan.
Kawasan hutan dalam konteks kajian David merujuk kepada kawasan luar bandar, pedalaman, hutan dan taman negara di Amerika Syarikat (AS).
Setakat ini beliau telah meneliti lebih dari 2,000 kes kehilangan di kawasan hutan sejak tahun 1800 dan telah menulis beberapa buah buku mengenainya.
Selain itu juga, beliau ada menghasilkan video dokumentari bertajuk Missing 411, Missing 411: The Hunted dan Vanished.
Corak penulisan beliau lebih kepada laporan kompilasi kes-kes kehilangan dan disusun mengikut kategori daerah, umur, jantina dan rumusan setiap kes. Bagaimanapun, David tidak membuat sebarang kesimpulan mengenai kes-kes kehilangan yang dikaji.
Dalam usaha mendapatkan fakta kes-kes kehilangan yang lalu, David telah bekerjasama dengan pelbagai agensi kerajaan Amerika Syarikat antaranya seperti Biro Penyiasatan Persekutuan (FBI), Jabatan Taman Negara Amerika Syarikat (National Park Service), pasukan mencari dan menyelamat (SAR), dan renjer.
Antara buku beliau yang menarik perhatian adalah buku keduanya bertajuk Missing 411 – Eastern United States: Unexplained disappearances of North Americans that have never been solved (2011).
Dalam buku ini, beliau menyusun pelbagai kes kehilangan indvidu di kawasan hutan di daerah timur Amerika Syarikat.
Menariknya tentang buku siri 411 oleh David Paulides ini adalah, semua kes yang ditulis adalah berdasarkan kejadian sebenar. Dalam kebanyakkan kes, ada mangsa yang telah ditemui semula dan ada yang tidak ditemui sehingga ke hari ini.
Melalui buku ini, David mempersoalkan bagaimana wujud corak berulang yang tidak dapat dijelaskan. Contohnya seperti mangsa ditemui di tempat yang telah dilalui beberapa kali oleh pasukan SAR dan anjing pengesan tidak dapat mengesan mangsa yang hilang.
Faktor unik
Bagi memperincikan hal ini, David Paulides telah mengenalpasti beberapa corak berulang yang beliau temui ketika meneliti kes-kes kehilangan yang lalu. Corak ini beliau namakan sebagai Faktor Unik dalam Kes Kehilangan (Unique Factors in Disappearances).
Menurut David, faktor-faktor unik ini menjadi tema berulang dalam kebanyakkan kes kehilangan di hutan taman Negara Amerika Syarikat:
1. Kawasan luar bandar
Kebanyakkan kes kehilangan individu tanpa dikesan berlaku di kawasan luar bandar seperti kawasan hutan, pedalaman atau taman negara Amerika Syarikat. Pada kebiasaannya, pihak berkuasa tidak dapat mencari saksi untuk tampil ke hadapan bagi memberi maklumat lanjut mengenai kes tersebut. Kawasan kehilangan juga melibatkan muka bumi yang sukar dilalui oleh manusia.
2. Anjing
Haiwan peliharaan seperti anjing banyak terlibat dalam kes kehilangan di bahagian timur Amerika Syarikat ini. Kes-kes lampau menunjukkan kanak-kanak mengikut anjing peliharaan mereka masuk ke hutan kemudian hilang tanpa dikesan.
3. Anjing Bloodhouds / K9 tidak dapat mengesan
Satu keadaan yang merunsingkan sering berlaku dalam kes-kes kehilangan individu di hutan adalah anjing pengesan dari baka Bloodhouds dan K9 tidak mampu mengesan mangsa yang hilang. Anjing tersebut diberikan kasut atau baju yang pernah dipakai oleh mangsa dan kemudian dibawa ke lokasi di mana mangsa kali terakhir berada. Apabila sampai di lokasi, anjing pengesan menunjukkan sikap tidak mahu mengesan mangsa atau tidak boleh mengesan mangsa. David tidak pasti mengapa keadaan ini sering berlaku. Ada juga kes di mana pihak berkuasa menggunakan anjing dari baka Cadaver
4. Golongan Istimewa
Menurut David Paulides, ada juga tema berulang melibatkan kehilangan individu dari golongan istimewa. Terutama melibatkan kes-kes dari bahagian timur Amerika Syarikat. Tidak diketahui mengapa golongan istimewa banyak terlibat dalam kes kehilangan di kawasan hutan dan David melihat kes ini terlalu kerap untuk dianggap sebagai sesuatu yang jarang berlaku.
5. Demam
Pada kebiasaannya terjadi kepada kanak-kanak hilang yang ditemui semula. Mereka didapati mengalami demam yang tidak dapat dijelaskan puncanya oleh ahli perubatan. Bagaimanapun, kes demam ini hanya sedikit sahaja dilaporkan dan dalam kebanyakan masa, keadaan sebenar mangsa tidak dilaporkan di dalam media.
5. Separuh sedar
Mangsa yang ditemui selamat biasanya berada dalam keadaan separuh sedar. Apabila disoal siasat oleh pihak berkuasa dan pasukan SAR, mangsa didapati tidak ingat dengan jelas apa yang berlaku sewaktu mereka hilang. Ada juga kes di mana mangsa boleh menjelaskan kembali keadaan sewaktu mereka hilang namun, penceritaan mereka agak menghairankan dan sukar dibayangkan.
6. Penculikan
Pada kebiasaanya, pihak berkuasa Amerika Syarikat akan mengkelaskan kes kehilangan di hutan ini sebagai kes penculikan. Bagaimanapun, terdapat kes-kes di mana mangsa berjaya ditemui semula beberapa hari selepas hilang dalam keadaan kering dan bersih walaupun cuaca hujan atau keadaan hutan yang basah dan berlecak sepanjang tempoh kehilangan tersebut.
7. Waktu kehilangan petang
David menganggarkan waktu kehilangan individu di hutan adalah pada sekitar jam 2.00 sehingga 5.00 petang. Namun, ada juga kes di mana waktu kehilangan berlaku pada waktu pagi. Akan tetapi kes-kes terdahulu menunjukkan pukul 2.00 sehingga 5.00 petang adalah waktu optimum di mana individu didapati hilang tidak dapat dikesan di kawasan hutan.
8. Kawasan paya dan semak berduri
Ada kes di mana mangsa ditemui oleh pasukan SAR di tengah-tengah atau berdekatan perimeter kawasan berpaya atau semak berduri. Ada anggota SAR memberi pandangan hairan bagaimana seorang budak kecil boleh berada di kawasan berpaya atau semak berduri ini. Menurut anggota SAR tersebut, kawasan berpaya dan semak berduri bukanlah satu kawasan yang suka dikunjungi apatah lagi seorang budak kecil.
9. Buah beri
Bagi kes kehilangan di hutan Amerika Syarikat, pokok beri menjadi antara tema berulang di dalam laporan kehilangan individu di hutan. Ada kes di mana mangsa hilang ketika memetik buah beri, ada kes mangsa yang hilang ditemui di tengah-tengah semak pokok beri dan ada kes mangsa hilang ditemui sedang makan buah beri. Kaitan kehilangan individu dan pokok beri tidak dapat dijelaskan namun ia menjadi kenyataan berulang dalam laporan polis.
10. Tidak berpakaian
Kebanyakkan kes juga melibatkan mangsa yang ditemui sama ada hidup atau mati berada dalam keadaan tidak berpakaian. Ada masanya, operasi SAR dan pihak berkuasa tidak menemui pakaian mangsa sepanjang operasi dijalankan dari tempat mereka kali terakhir dilihat sehingga ke tempat mangsa ditemui.
11. Mangsa ditemui di tempat yang sudah dicari
Satu faktor unik dalam kebanyakkan kes adalah, mangsa ditemui di tempat yang sudah dilalui dan dicari beberapa kali oleh pihak berkuasa dan pasukan SAR. Ada masanya, mangsa hilang ditemui di trek laluan utama di kawasan hutan yang telah dilalui berkali-kali. Komander SAR dari Amerika Syarikat yang terlibat menyatakan beliau hairan bagaimana ini boleh berlaku.
Contoh kes di Malaysia yang memenuhi faktor unik kehilangan oleh David Paulides
Pada 6 November 2004, tiga orang kanak-kanak iaitu Saharuddin, 6 tahun, Budin, 5 tahun dan Mariam, 3 tahun, tiba-tiba hilang semasa bermain di ladang getah berhampiran rumah mereka di Felcra Mambang Seberang, Paloh Hinai, Pekan.
Kehilangan mereka mengejutkan bapa mereka Sallehuddin Abdul Halim, 41 tahun yang sedang membaiki motorsikal dan berada dekat dengan mereka.
Operasi mencari dan menyelamat besar-besaran dijalankan melibatkan pihak polis, JPA3, Rela, Kakitangan Felcra, Anggota Gerakan Am, Perhilitan dan tentera Malaysia. Kawasan pencarian meliputi kawasan ladang getah berkeluasan 212 hektar. Anjing pengesan digunakan sepanjang operasi dijalankan namun tiada sebarang petunjuk ditemui.
Pada hari kelima iaitu pada pukul 5.30 petang, pasukan mencari menemui baju-T dan selipar milik Mariam. Pada pukul 5.45 petang, ketiga-tiga mereka berjaya ditemui. Kesemua mereka ditemui dalam keadaan tidak berbaju, lemah dan dipenuhi dengan gigitan serangga.
Menurut Ketua Polis Daerah Pekan, Pemangku Supritendan Mohd. Jasmani Yusoff, kanak-kanak ini ditemui Ketua Bahagian Ketenteraman Awam Daerah Pekan, Cif Inspektor, Mustapa Othman di kawasan yang sukar dimasuki kerana perlu melalui denai hutan.
Mereka berada di tempat yang agak tinggi seperti pulau di tengah kawasan paya berhampiran Kampung Tanjung Cempaka iaitu di luar kawasan Felcra Mambang Seberang.
Menurut Jasmani, penemuan mereka di tengah kawasan berpaya itu agak menghairankan kerana pasukan mencari telah melalui lima sehingga enam kali kawasan berkenaan dan tidak menemui apa-apa petunjuk.
Siasatan mendapati punca kehilangan mereka adalah sesat. Bagaimanapun, menurut Jasmani, ada aspek yang tidak dapat dijelaskan seperti bagaimana kanak-kanak tersebut berjalan sejauh enam kilometer dan kemudian melepasi parit sempadan ladang sedalam lima kaki dan 12 kaki lebar.
Menurut bapanya, Saharuddin atau panggilan manja Tot memberitahu, ketika bermain di ladang getah tersebut, dia dan adik-adiknya mengikut orang berbadan besar masuk ke hutan.
Tot kemudian menambah, mereka diberi makan buah-buahan dan minum air dari tanah. Bila ditanya apakah jenis buah yang dimakan, Tot tidak ingat buah apa yang mereka makan. Menurut Tot lagi, sepanjang lima hari mereka di hutan, mereka tidur di atas tanah.
Bila ditanya bagaimana mereka berada di atas pulau di kawasan berpaya tersebut, Tot memberi orang badan besar itu meninggalkan mereka di situ setelah diajak bersiar-siar. Dua adiknya iaitu Budin dan Mariam bersungguh-sungguh untuk bercerita mengenai pengalaman mereka namun butir perbualan mereka tidak jelas atas faktor usia.

Kesimpulan
Kes 2004 ini adalah satu daripada kes-kes yang pernah berlaku di Malaysia. Dari kes ini, kita mendapati tujuh faktor unik kehilangan di hutan yang dicadangkan oleh David Paulides memenuhi kriteria dengan kes di Malaysia. Tujuh faktor unik kehilangan yang boleh dikaitkan adalah:
1. Kes berlaku di kawasan luar bandar dan hutan
Kawasan ladang getah yang berhampiran hutan merupakan kawasan ketiga-tiga beradik ini hilang.
2. Anjing pengesan tidak dapat mengesan dan memberi petunjuk
Penggunaan anjing pengesan di awal operasi pencarian tidak menemui sebarang petunjuk.
3. Kawasan berpaya dan semak berduri
Ketiga-tiga mereka ditemui di tengah-tengah pulau kecil kawasan berpaya, enam kilometer dari lokasi terakhir mereka dilaporkan hilang.
4. Buah Beri
Pokok buah beri tidak sesuai tumbuh di tanah ladang getah atau kawasan hutan di Malaysia namun, kita dapati kanak-kanak tersebut mengakui mereka diberi makan buah-buahan yang mereka tidak pasti buah apa. Mungkin buah-buahan kecil seperti buah beri.
5. Tanpa pakaian
Ketiga-tiga beradik itu ditemui di pulau kecil kawasan berpaya tanpa sebarang pakaian.
6. Mangsa ditemui di kawasan yang sudah dicari
Kita sedia maklum bahawa kenyataan anggota penyelamat mengatakan bahawa kanak-kanak ini ditemui di kawasan yang telah dilalui mereka sebanyak lima sehingga enam kali.
Secara kesimpulannya, kita tidak tahu bagaimana kanak-kanak berumur tiga sehingga enam tahun tersebut boleh berjalan sejauh enam kilometer melepasi sempadan sedalam lima kaki dan 12 kaki lebar, melepasi denai hutan dan kemudian duduk pulau kecil di tengah-tengah kawasan paya tanpa pakaian.
Faktor unik kehilangan individu di hutan oleh David Paulides ini hanyalah sebagai satu rujukan. Ia boleh diubah, ditambah dan diperdebatkan. Tetapi perlu diingatkan bahawa faktor unik ini wujud hasil dari pemerhatian yang melibatkan lebih 2,000 kes kehilangan individu di hutan Amerika Syarikat sejak tahun 1800 yang di kumpul dan disusun oleh David Paulides.
Tujuan beliau saya yakin cuma satu, iaitu untuk mencari jawapan sebenar berdasarkan corak dan tema berulang. Seperti seorang detektif polis yang mengumpul risikan dan maklumat dalam kes jenayah sehingga penjenayah berjaya dikesan dan ditangkap, saya yakin David juga mempunyai tujuan sama, akan tetapi perlaku dalam kes kehilangan individu di hutan ini masih tidak dapat dijejaki lagi.
Pada pendapat saya, buku David Paulides ini sesuai dibaca oleh mereka yang mahukan penjelasan logik di sebalik kes kehilangan tersebut serta tidak membuat andaian segera mengenai kehilangan individu di hutan.
Apabila kita terus membuat andaian tanpa melihat kepada fakta kes-kes sebelum ini, kita akan menyekat perbincangan dan pemikiran ke arah mendapatkan maklumat yang lebih kukuh, jelas dan tepat.
Usaha mengumpul kes-kes kehilangan di kawasan hutan di Malaysia akan memakan masa yang panjang, jadi bagi pembaca di luar sana, jika anda mempunyai kisah atau cerita mengenai kehilangan individu di hutan, pedalaman atau luar bandar yang anda ketahui bolehlah kongsikannya di forum Facebook yang saya wujudkan iaitu Missing 411 Forum Malaysia.
---
* Penulis adalah bekas penyelidik dalam ilmu Perang Saraf Media dan Informasi dan pernah menjadi Felo Penyelidik Operasi Psikologi dan Propaganda di Pusat Pengajian Perangsaraf Media dan Informasi (UiTM).

** Pandangan di dalam artikel ini adalah pandangan peribadi penulis dan tidak semestinya mencerminkan pandangan Astro AWANI.
sumber :astroawani