Menteri sahkan KSU Motac disiasat SPRM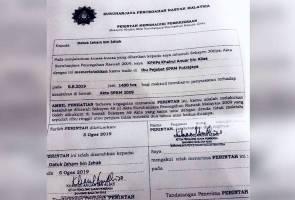 PUTRAJAYA
: Menteri Pelancongan, Seni dan Budaya (Motac), Datuk Mohamaddin Ketapi mengesahkan Ketua Setiausahanya, Datuk Isham Ishak sedang di dalam siasatan Suruhanjaya Pencegahan Rasuah Malaysia (SPRM) berhubung kes rasuah.
Bagaimanapun, menurut Ahli Parlimen Silam itu, beliau masih belum dimaklumkan secara terperinci berhubung siasatan yang sedang dijalankan badan pencegah rasuah itu.
Dalam masa yang sama, Mohamaddin menegaskan, beliau tidak akan berkompromi dengan mana-mana pegawai kementeriannya yang terlibat dengan gejala rasuah.
"Saya tegaskan di sini, kerajaan Pakatan Harapan ini merupakan kerajaan Malaysia baharu dan bersih. Saya tidak akan bertolak ansur dengan pegawai-pegawai di kementeriani ini atau di jabatan ini yang buat salah laku atau terlibat dengan rasuah.
"Tetap apa yang berlaku ini saya sendiri belum dimaklumkan secara rasmi sebab apa (Isham ditahan). Jadi saya tidak dapat beri komen lebih panjang. I don't want to be subjudice," katanya pada satu sidang media, di sini, hari ini.
Semalam, sebuah portal melaporkan, Isham telah dipanggil SPRM untuk bagi membantu siasatan salah guna kuasa membabitkan kontrak kerajaan bernilai lebih RM99 juta.
Portal itu mendedahkan SPRM telah menghantar notis kepada Datuk Isham Ishak bertarikh 5 Ogos lalu oleh Bahagian Operasi Khas.
sumber :astroawani