Lukisan terpanjang menggunakan kopi diiktiraf M'sia Book of Records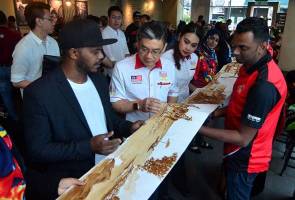 GEORGE TOWN
: Pelukis kartun kelahiran Pulau Pinang Mohd Azmi Mohd Hussin mencipta sejarah tersendiri apabila lukisan yang dihasilkannya menggunakan air kopi membolehkan beliau tersenarai dalam Malaysia Book of Records dikitiraf sebagai "lukisan terpanjang menggunakan kopi".
Pelukis berumur 35 tahun itu diiktiraf sebagai rakyat Malaysia yang pertama menghasilkan karya seni berbentuk lukisan sepanjang 101 meter yang memaparkan 100 mercu tanda Pulau Pinang, menggunakan air kopi yang diperbuat daripada jenis arabica berkualiti tinggi dari Starbucks.
Mohd Azmi berkata beliau mengambil masa 25 hari untuk menyiapkan lukisan itu yang menampilkan pemandangan Pulau Pinang di kaki langit, dari Masjid Kapitan Keling sehingga ke Seberang Perai.
Menurutnya bagi mencapai pelbagai tona warna coklat yang berlainan, biji-biji kopi dikisar mengikut set yang betul, kemudiannya diekstrak dengan merendamnya dalam air panas untuk tempoh masa yang berbeza.
"Selepas meninjau pelbagai jenis kopi yang berlainan untuk lukisan, saya dapati hanya kopi asli mencapai hasil yang diharapkan bagi tempoh yang panjang. Setiap hari saya menghabiskan masa selama lapan jam untuk menyiapkan sekurang-kurangnya lukisan sepanjang lima meter tiap sehari," katanya kepada pemberita di sini.
Terdahulu Ketua Menteri Pulau Pinang Chow Kon Yeow serta Pengarah Urusan Starbucks Malaysia dan Brunei, Sydney Quays, menyaksikan penyampaian sijil Malaysia Book of Records oleh Ketua Pegawai Eksekutif Malaysia Book of Records Sdn Bhd, Christopher Wong kepada Azmi di Starbucks Sri Pinang di sini.
Mohd Azmi berkata sepanjang proses, Starbucks banyak membantu dalam menyediakan peralatan yang diperlukan bagi memastikan beliau dapat menghasilkan karya terbaik.
"Bekerja dengan Starbucks benar-benar meluaskan pengalaman dan saya amat berterima kasih kepada Starbucks Malaysia yang menyediakan platfornm ini kepada saya, sebagai penghormatan kepada tempat asal saya," katanya.
Pada 2017, Azmi sudahpun berjaya mendapatkan pengiktirafan daripada Malaysia Book of Records sebagai karikatur paling banyak dilukis dalam tempoh 24 jam.
Mohd Azmi yang dikenali dengan nama pena ME berkata sasaran berikutnya adalah cubaan mendapat pengiktirafan daripada Guiness World Records untuk lukisan terpanjang menggunakan kopi dan mempamerkan lukisan kopinya itu di premis Starbucks di seluruh negara di masa hadapan.
"Saya kini tinggal di sebuah galeri kecil di Jalan Penang tapi saya benar-benar berharap untuk mendapat tempat yang sesuai utnuk mempamerkan hasil karya saya di masa akan datang," katanya.
Dalam tempoh enam tahun karier beliau sebagai pelukis kartun, Mohd Azmi telah menghasilkan tiga buku komik bertajuk 'Tanjong Life', 'Little Mamak' dan 'Lost in Bagan'.
— BERNAMA
sumber :astroawani