Lucasfilm siar treler kedua Star Wars: The Rise of Skywalker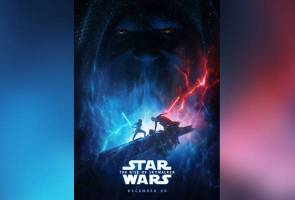 PEMINAT Star Wars hari ini disajikan dengan treler berupa sedutan dari naskhah terbaharunya 'The Rise of Skywalker' yang merupakan episod kesembilan filem keluaran Lucasfilm itu.
Treler tersebut mula disiarkan di Disney D23 Expo 2019 di Anaheim, California pada Ahad.
Entertainment Weekly menggelarkan treler itu sebagai 'sizzle reel', namun ia sedikit pun tidak menjadi isu kepada peminat tegar Star Wars saga.
Apa yang menangkap mata peminat filem sains fiksyen itu ialah penampilan terbaharu Rey yang muncul dengan pedang lightsaber berkembar berwarna merah.
Plot itu bagaimanapun mengundang pelbagai komen sehingga ada yang menganggap Rey akan bertukar menjadi watak jahat.
"Kami melakukan perubahan dan menerokai banyak benda baharu. Anda hanya perlu tunggu kemunculan filem ini," kata aktres Daisy Ridely.
Star Wars: The Rise of Skywalker dijangka menemui penonton seluruh dunia pada pertengahan Disember depan.
Treler filem 'Star Wars: The Rise of Skywalker' yang berdurasi dua minit lebih itu bermula dengan gabungan semua episod Star Wars termasuk visual Luke Skywalker dan Princess Leia sewaktu muda termasuk transformasinya kepada Jeneral Leia.
Treler ini ditontonkan kepada umum beberapa bulan selepas Lucasfilm menayangkan sedutan pertama filem itu pada April di acara 'Star Wars Celebration'.
Pengarah J.J Abrams memberitahu bagaimana beliau memanfaatkan sepenuhnya visual Leia (Carrie Fisher) yang tidak pernah dipertontonkan kepada umum sebelum ini.
Antara barisan pelakon yang kembali membintangi filem itu termasuk John Boyega (Finn), Lupita Nyong'o (Maz Kanata), Kelly Marie Tran (Rose), Domhnall Gleeson (Hux), Joonas Suotamo (Chewbacca), Anthony Daniels (C-3PO), Jimmy Vee (R2-D2), Billie Lourd (Kaydel Ko Connix), Naomi Ackie (Jannah), Mark Hamill (Luke Skywalker).
sumber :astroawani