Lagu Oh Malaysiaku! cetus fenomena Hari Kemerdekaan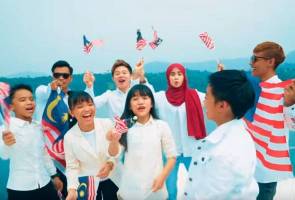 KUALA LUMPUR
:
"Kibarkan semangat Jalur Gemilang mu..Oh Malaysia ku.."
Itu antara bait lagu 'Oh Malaysiaku' yang kini meniti di bibir dicipta khas sempena sambutan Hari Kemerdekaan yang ke-62 pada 31 Ogos ini.
Untaian lirik yang dicipta hasil daripada buah fikiran empat anak muda Ismail Izzani, Mas Dewangga, Firdaus Rahmat dan Lil J bukan hanya menyemarakkan lagi semangat patriotik, malah menjentik hati sesiapa sahaja yang mendengarnya.
Susunan muzik yang 'catchy' pula merupakan gabungan individu sama iaitu Ismail Izzani, Mas Dewangga dan Firdaus Rahmat.
Muzik video yang berdurasi hampir empat minit itu menampilkan sekumpulan penyanyi generasi baharu kelahiran rancangan realiti televisyen antaranya Masya Masyitah, Usop, William Tan, Lil J, Eiffel, Alif, Timah dan Cici.
Gabungan penyanyi yang terdiri daripada pelbagai kaum cukup menunjukkan betapa Malaysia merupakan sebuah negara yang didiami oleh masyarakat berbilang bangsa.
Menyentuh tentang lirik lagu Oh Malaysiaku, ia tidak hanya terbatas kepada Bahasa Melayu, malah turut dilengkapi dengan bahasa Tamil, Cina dan Inggeris.
Lokasi penggambaran muzik video yang mengambil tempat di sekitar ibu negara turut memaparkan lokasi-lokasi bersejarah antaranya Dataran Merdeka, Stesen Keretapi Kuala Lumpur dan Bangunan Sultan Abdul Samad.
Turut dipaparkan ialah Jalur Gemilang yang merupakan elemen utama dalam setiap kali sambutan Hari Kemerdekaan dan bunga kebangsaan iaitu bunga raya.
Dalam pada itu, netizen di platform Youtube turut meninggalkan komen positif termasuk melahirkan kesyukuran dan bangga dilahirkan sebagai seorang rakyat Malaysia.
Ada juga yang memuji susunan muzik dan lirik yang 'simple' tetapi meninggalkan kesan yang mendalam.
Antara komen-komen yang ditinggalkan netizen ialah:
" Amazingg song with amazing singers! We are malaysian!!" – Nur Fitrah.
" Rasa beryukur dan bngga sangt menjadi salah seorang rakyat malaysia…tk kira agama dan bangsa ..bila berkumandangnya lagu2 patriotik …lagi bertambah semangat tu…aura dia lain mcm…sebagai rakyat malaysia kita semua harus bersatu!!! Kita semua 1malaysia!!!!!" – Miss Mikko
" Hi, I'm Ken Vun, I'm Chinese, I'm proud with my country Malaysia. Selamat Menyambut Hari Kemerdekaan buat Negaraku Malaysia.. Aku anak Malaysia" – Ken Vun.
" Wahai malaysiaku,bersatu kita teguh,bercerai kita jangan.Doakan malaysia senantiasa aman dan damai.PEACE,LOVE,RESPECT" – Ivy Yuut.
" Tak perlu bagitau korang bangsa apa sebab kita semua adalah satu Malaysia, dari Perlis sehingga lah ke Sabah. – Ira R.
sumber :astroawani