Kerajaan kekal pendirian teruskan operasi Lynas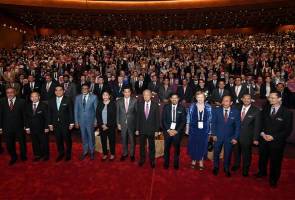 KUALA LUMPUR
: Kerajaan kekal dengan pendirian untuk meneruskan operasi Lynas seperti yang dimaklumkan oleh Lembaga Pelesenan Tenaga Atom (LPTA), Khamis lalu.
Perdana Menteri, Tun Dr Mahathir Mohamad menegaskan, perkara itu diputuskan hasil laporan siasatan yang dicadangkan oleh pasukan pakar, walaupun menyedari segelintir pihak membantahnya.
"Amat sukar untuk kerajaan membuat keputusan sebab pandangan popular satu perkara, pandangan pakar satu lagi perkara.
"Nak ikut pandangan popular atau laporan pakar? Kalau ikut pandangan popular, tidak ada apa yang dapat kita lakukan sebab setiap kali kita cadangkan untuk buat sesuatu, pasti akan ada orang yang membantahnya," katanya dalam sidang media pada Ahad.
Menurut beliau, berdasarkan dapatan laporan pakar, ia tidak berbahaya termasuk kepada lebih 700 pekerja di tapak berkenaan di Gebeng, Kuantan.
"Kita tidak boleh mengeksportnya kerana tiada siapa yang inginnya (Residu Water Leach Purification).
"Kita juga tidak boleh dibuangnya ke dalam laut kerana ia akan menyebabkan ikan mati, jika ia benar.
"Jadi kita kekal untuk ikut apa kata pakar. Saintis tahu apa yang dimaksudkan dengan bahaya," jelasnya.
Lesen operasi bersyarat kepada Lynas Malaysia Sdn. Bhd. diperbaharui selama enam bulan selepas dilanjutkan selama tiga tahun pada 2016 hingga 2 September tahun ini.
LPTA dalam kenyataan memaklumkan antara syarat yang dikenakan terhadap kilang nadir bumi itu ialah pemindahan proses 'Cracking and Leaching' ke luar negara dan pembinaan Kemudahan Pelupusan Kekal (PDF).
Lynas hendaklah mengemukakan perancangan bagi pembinaan kemudahan 'Cracking and Leaching' di luar negara bagi tujuan memindahkan proses itu yang kini dijalankan di lojinya di Gebeng, keluar dari Malaysia.
Lynas juga perlu mengenal pasti tapak khusus untuk pembinaan PDF dan mengemukakan kebenaran secara bertulis daripada kerajaan negeri bagi penggunaan tapak itu sebagai PDF.
BACA: Tidak boleh halau Lynas, pelabur asing perhati – Tun Mahathir
sumber :astroawani