Kemenangan Anifah dibatal mahkamah, Karim minta penyokongnya bertenang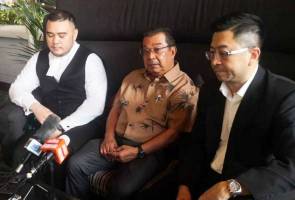 KOTA KINABALU
: Bekas calon Pilihan Raya Umum Ke-14 (PRU14) bagi Parlimen Kimanis lalu, Datuk Karim Bujang meminta kesemua penyokongnya untuk bertenang selepas pengumuman keputusan Mahkamah Pilihan Raya memihak kepada pihaknya hari ini.
Mahkamah Pilihan Raya Kota Kinabalu pada hari ini membatalkan kemenangan Ahli Parlimen Kimanis sebelum ini, Datuk Seri Anifah Aman.
Karim yang bertanding atas tiket Parti Warisan Sabah (Warisan) pada PRU14 lalu berkata, para penyokong parti dinasihatkan untuk tidak terpengaruh dengan mana-mana berita palsu sekiranya Pilihan Raya Kecil (PRK) berlaku dalam tempoh terdekat ini.
Jelasnya, meskipun keputusan mahkamah membatalkan kemenangan Anifah, beliau berpendapat kes berkenaan belum selesai sepenuhnya memandangkan pihak lawan boleh lagi membuat rayuan di Mahkamah Persekutuan.
"Ia merupakan satu tempoh untuk saya beri penerangan kepada penyokong-penyokong parti, supaya bersiap sekiranya ada pilihan raya, dan kedua, jangan dengar berita-berita palsu yang mungkin disebar luas oleh orang tertentu atau media tidak sahih.
"Believe in your party, believe in the right channel and believe in yourself," katanya.
Beliau berkata demikian ketika menjawab persoalan mengenai kesediaan pihaknya menanti keputusan daripada Mahkamah Persekutuan susulan rayuan Suruhanjaya Pilihan Raya (SPR) berhubung petisyen pada hari ini.
BACA: Kemenangan Anifah Aman pada PRU14 tidak sah – Mahkamah Pilihan Raya
Terdahulu, Hakim Mahkamah Pilihan Raya, Lee Heng Cheong pada hari ini, membuat keputusan berkenaan selepas pemeriksaan semula ke atas peti-peti undi mendapati terdapat unsur-unsur manipulasi termasuk penambahan kertas undi secara tidak sah yang melanggar undang-undang pilihan raya.
Keputusan tersebut sekali gus memperlihatkan Anifah terpaksa mengosongkan kerusi Ahli Parlimen P. 176 Kimanis yang dimenanginya pada PRU-14 lalu.
Bagaimanapun pihak Anifah mengemukakan rayuan kepada Mahkamah Persekutuan.
Karim dalam sidang media di Kota Kinabalu pada petang tadi turut menyifatkan pihaknya kini boleh menarik sedikit lega susulan rentetan kes mahkamah berhubung petisyen tersebut yang mengambil masa setahun tiga bulan itu.
Pihak peguam pempetisyen sebelum ini memfailkan tiga kes iaitu mengikut Seksyen 32 a, Seksyen 32 b dan Seksyen 32 c Akta Pilihan Raya 1954.
Bagaimanapun, dua kes iaitu pertuduhan rasuah mengikut Seksyen 32 a dan amalan korupsi mengikut Seksyen 32 c Akta Pilihan Raya 1954 gagal dibuktikan dengan mahkamah memutuskan untuk Karim membayar Anifah sebanyak RM105, 000.
SPR pula diarahkan supaya membayar RM100, 000 kepada Karim mengikut Seksyen 32 c Akta Pilihan Raya 1954 selepas terbukti terdapat unsur manipulasi pada PRU-14 di Parlimen Kimanis.
Untuk rekod, Anifah yang juga bekas Menteri Luar itu memenangi kerusi di Parlimen P. 176 Kimanis dengan majoriti 156 undi dengan keputusan melibatkan 11,942 undi manakala Karim sebanyak 11,786 undi.
sumber :astroawani