Keluarga Miley Cyrus minta pertimbang hubungan dengan Liam Hemsworth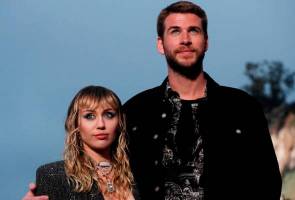 TIDAK sampai beberapa hari penyanyi Miley Cyrus dan pelakon Liam Hemsworth mengumumkan perceraian mereka selepas beberapa bulan berkahwin, Miley tampil dengan lagu '
Slide Away
'.
Namun, selepas bintang Hannah Montana itu melancarkan sebuah lagu yang seolah-olah mempunyai kaitan dengan perceraian mereka, mereka dikatakan telah menerima gesaan agar mempertimbang dan memperbaiki semula hubungan mereka.
Menurut laporan portal Metro.co.uk, keluarga Miley dan Liam telah mendesak mereka untuk memberi sedikit masa sebelum membuat sebarang keputusan.
"Mereka berdua sedih tentang bagaimana situasi itu telah memberi kesan kepada mereka dan kedua-duanya sedang berduka," lapor portal itu dengan memetik sumber dalaman.
Menerusi lagu baharu berjudul 'Slide Away', liriknya memberi petunjuk tentang erti pengorbanan dan rasa kehilangan yang mereka hadapi sejak pengakhiran cinta mereka itu.
"Move on, we are not 17, 'I'm not who I used to be, you said that everything changed, you're right I'm grown now.." merupakan di antara bait-bait lirik yang dinyanyikan oleh Miley dalam lagu tersebut.
Sumber juga menyatakan bahawa mereka masih ada peluang untuk kembali bersama, dan mereka juga dikatakan telah berusaha untuk memberi ruang dan waktu sesama mereka.
Kedua-dua Miley dan Liam memutuskan sama ada mereka akan mengambil langkah berikutnya untuk memfailkan perceraian, kerana ada peluang untuk melakukan keputusan tersebut.
Bagaimanapun, jurucakap penyanyi 'We Can Not Stop' itu mengesahkan perceraian mereka minggu lalu adalah atas keputusan yang dilakukan bersama.
"Mereka juga telah meyakinkan diri mereka bahawa ia merupakan keputusan terbaik bagi mereka memfokuskan kerjaya masing-masing," tambah jurucakap Miley.
Liam dan Miley yang telah bersama sejak 10 tahun lalu, berkahwin pada Disember tahun lalu.
sumber :astroawani