Kehilangan Nora Anne jejas aktiviti pelancong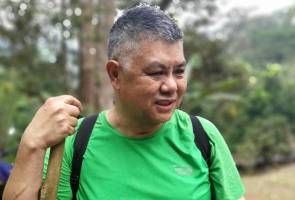 NILAI
: Kehilangan remaja perempuan warganegara Ireland, Nora Anne Quoirin sejak Ahad lalu sedikit sebanyak menjejaskan aktiviti para pelancong yang menginap di The Dusun Hill Resort, di sini.
Menurut seorang pelancong warga Singapura yang dikenali sebagai Shawn Ang, 61, aktiviti kumpulannya terpaksa dibatalkan bagi memberi laluan kepada operasi Mencari dan Menyelamat (SAR).
"Kami sepatutnya ada aktiviti mendaki, tetapi sudah dibatalkan atas arahan pihak resort dan kami hanya jalan-jalan sekitar resort," katanya ketika ditemui ketika bersiar-siar di pusat pelancongan itu.
Ditanya sama ada pihaknya mengetahui akan kes remaja hilang itu dia berkata hanya mengetahui sebaik sahaja mereka tiba di pusat pelancongan itu.
"Saya terkejut tengok ramai anggota keselamatan, ingat ada orang ternama bercuti di sini dan hanya tahu apabila dimaklum oleh pasukan operasi", katanya lagi.
BACA: Keluarga Nora Anne zahirkan penghargaan, kagum dengan misi pencarian di ambang Aidiladha
BACA: Dimana Nora Anne?: SAR guna teknologi kesan haba remaja Ireland hilang
Setakat ini, masih tiada sebarang khabar berita berhubung kehilangan Nora Anne yang masuk hari ketujuh operasi SAR pada Sabtu.
Bagaimanapun operasi SAR tidak dihentikan dan usaha mengesan remaja perempuan itu terus dipergiat termasuk penglibatan pasukan VAT69 yang mula terlibat sejak semalam.
Nora Anne yang mengalami masalah lembam sebelum ini dilaporkan hilang ketika menginap di The Dusun Pantai Hill Resort pada Ahad lalu sebelum pihak berkuasa melancarkan operasi mencari dan menyelamat (SAR) di kawasan berkenaan.
sumber :astroawani