Keanu Reeves kembali sebagai Neo dalam The Matrix 4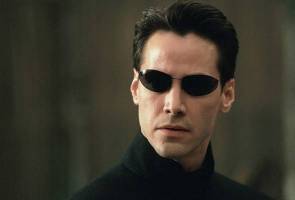 INI berita baik buat peminat filem The Matrix.
Pelakon asal, Keanu Reeves dan Carrie-Anne Moss bakal kembali ke layar perak sebagai Neo dan Trinity dalam sekuel terbaharu filem sci-fi itu.
Portal berita hiburan Variety melaporkan bahawa filem keempat francais itu bakal memulakan produksi pada awal tahun depan.
Menurut Pengerusi Warner Brothers Picture Group Toby Emmerich, filem tersebut akan diterbitkan oleh Warner Brothers dan Village Roadshow Pictures.
Dia turut mengumumkan Lana Wachowski kekal sebagai pengarah susulan kejayaannya mencipta ketiga-tiga filem Matrix.
"Kami sangat teruja untuk menghasilkan filem Matrix, terutamanya apabila ia diarahkan oleh Wachowski.
"Wachowski adalah seorang yang mempunyai visi yang jelas selain seorang pengarah yang kreatif dan kami sangat teruja apabila dia juga turut menulis dan menjadi penerbit bagi Matrix edisi terbaharu ini, jelasnya.
Selain Wachowski, naskhah itu juga ditulis oleh Aleksandar Hemon dan David Mitchell.
Menurut sumber, filem Matrix edisi keempat itu dijangka akan memulakan penggambaran tahun depan.
Walaupun butiran mengenai plot filem terbaharu ini tidak diketahui, khabar angin mengatakan bahawa watak Morpheus yang sebelum ini dipegang oleh Laurence Fishburne bakal dimainkan oleh pelakon yang lebih muda.
Ketiga-tiga filem itu iaitu "The Matrix," "The Matrix Reloaded" dan "The Matrix Revolutions" secara kolektif memperoleh lebih AS$1.6 bilion serta pecah panggung.
sumber :astroawani