ICoE-Rel UTHM bantu gembleng tenaga pengajar mahir industri rel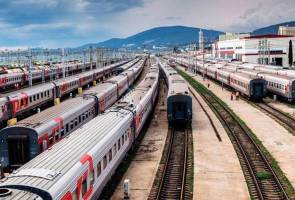 Pusat Kecemerlangan Industri Rel (ICOE-Rel) UTHM terus menggembleng usaha apabila mula melaksanakan program Training of Trainers (ToT) bermula Ogos ini kepada tenaga pengajar terpilih di seluruh negara.
Ia bagi persiapan pengajaran dan pembelajaran di samping meningkatkan pembangunan dan penyelidikan kereta api di Malaysia.
Program yang diberikan nama sebagai Professional Metro Technical Advanced Skills for Academicians itu merupakan struktur program yang menyediakan kemahiran dan pengetahuan kepada tenaga pengajar mengenai operasi dan penyelenggaraan sistem kereta api bandar sehingga tahap pensijilan.
Apa yang menariknya adalah apabila menamatkan kursus, tenaga pengajar akan dianugerahkan sijil oleh pihak Jabatan Pembangunan Kemahiran (JPK) dan rakan strategik ICOE-Rel UTHM iaitu Prasarana Malaysia Berhad yang membolehkan tenaga pengajar IPT menaik taraf program berkaitan industri rel bagi menyediakan permintaan industri rel di peringkat tempatan dan antarabangsa.
Walaupun latihan ini merupakan latihan yang bersifat jangka pendek (lebih kurang 15 hari hingga 30 hari), namun sekurang-kurangnya tenaga pengajar didedahkan dengan kemahiran komprehensif dan terdedah dengan dunia sebenar rel di Malaysia.
Ia merupakan aspek penting sebelum memulakan pengajaran kepada mana-mana pelajar yang mengikuti kursus rel di IPT terlibat.
Program ini juga mendapat sokongan penuh daripada Kementerian Pendidikan Malaysia (KPM) sebagai persediaan kepada pelajar meningkatkan kemahiran dan seterusnya diberikan pendedahan yang cukup berkaitan dengan industri rel.
Peruntukan yang disalurkan oleh pihak KPM amat bermakna kepada semua yang terlibat secara langsung di dalam industri rel.
Di samping latihan diberikan kepada tenaga pengajar, satu lagi program atau tawaran telah diberikan kepada pelajar tahun akhir ataupun yang baru sahaja menamatkan pengajian di IPT menerusi program latihan Professional Engineering Program in Urban Rail Systems.
Ia merupakan struktur program yang menyediakan kemahiran dan pengetahuan yang diperlukan oleh pelajar mengenai operasi dan penyelenggaraan sistem kereta api bandar.
Apabila berjaya diselesaikan, pelajar akan dianugerahkan dengan Certificate of Completion oleh pihak Prasarana Malaysia Berhad dan UTHM seterusnya membolehkan pelajar meningkatkan pengetahuan mereka dalam bidang kejuruteraan rel bagi memenuhi permintaan industri rel tempatan dan antarabangsa.
Malah, para pelajar akan diberikan peluang pekerjaan setelah menamatkan latihan insentif tersebut di mana-mana industri rel yang terpilih.
Ini merupakan peluang yang amat bermakna untuk meningkatkan kebolehpasaran graduan di dalam bidang industri rel.
Usaha ini harus diteruskan dengan memperuntukkan dana tambahan kepada pihak ICOE-Rel UTHM untuk memperkasa tenaga pengajar dan para pelajar yang dapat memenuhi kehendak pasaran industri rel.
Di samping itu, sokongan dan kerjasama industri juga penting agar dapat merealisasikan hasrat kerajaan dalam menghasilkan tenaga kerja berkemahiran tinggi.
---
Ts Dr Mohd Fahmy Abdullah ialah Penyelidik Utama ICoE-Rel dan merupakan teknologis profesional di dalam bidang pengangkutan dan logistik dari Malaysian Board of Technologist (MBOT)

Pandangan di dalam artikel ini adalah pandangan peribadi penulis dan tidak semestinya mencerminkan pandangan Astro AWANI
sumber :astroawani