Eduard Folayang hopeful for another bout with 'The Underground King'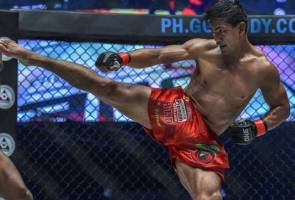 PHILIPPINES warrior Eduard "Landslide" Folayang may only be two weeks removed from his battle against Eddie "The Underground King" Alvarez, but he is already looking forward to another bout with the American martial arts icon.
The Team Lakay star will carry on his quest to possess the ONE Lightweight World Title again and feels that he will cross paths with the Ricardo Almeida BJJ standout.
"I believe that we'll face each other again. We don't know when, but I'm confident that it will happen," the 35-year-old wushu specialist said.
"I heard they're considering doing fights in the US. I hope we'll meet there."
Folayang was on a path to his biggest career victory at ONE: DAWN OF HEROES in The Mall Of Asia Arena on Friday, 2 August. Unfortunately for the "Landslide," one mistake was all it took for that chance to slip away.
After dropping Alvarez to the canvas, the Filipino athlete sought to close the match with a series of ground-and-pound strikes.
The match, however, turned around in a split second. He was then choked, and Alvarez left the Philippines capital city as the victor.
"I think I overdid it. When I saw him go down, I felt like I really wanted to finish him," he recalled.
"When I saw his face, I know that he was close to being finished."
"But when the match ended, I was in shock. I lost focus on the match and singled-out the stand-up game. It hurts, but we learn from it."
But whatever unfolded is in the past, and the Baguio native is certain that he will return to the ring again in search of his 22nd career win.
"The results don't matter anymore. What's important is that we learned. We'll be back. We'll try to fix it. Then we'll rise again."
"I'm just observing the situation now. I feel like I can still fight before the year ends."
ONE Championship travels to Ho Chi Minh, Vietnam next for ONE: IMMORTAL TRIUMPH, the organization's first-ever all-ONE Super Series match card.
sumber :astroawani