BAP beri pendedahan perniagaan kepada usahawan muda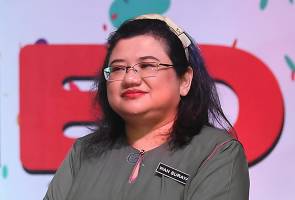 BANGI
: PROTÉGÉ – Business Accelerator Programme (BAP) memberi pendedahan teknik perniagaan, strategi pengeluaran produk selain menjaga kewangan untuk usahawan muda.
Ketua Setiausaha Kementerian Pembangunan Usahawan (MED), Datuk Wan Suraya Wan Mohd Radzi berkata, ia sekali gus memperkasakan penguasaan perniagaan para peserta seterusnya membentuk usahawan yang berdaya saing dan lestari.
"Saya rasa ia amat positif sekali, ini merupakan lanjutan program Protege di bawah kementerian bersama agensi lain, saya harap apa yang diutarakan memberi fokus kepada hasil kelak.
"Ini semua akan dibentangkan kepada menteri. Kita tidak mahu mencipta satu lagi program tetapi tidak ada kesinambungan, tidak ada efektif. Inilah semua hala tuju program supaya ia lebih efektif dan efisyen," katanya semasa sidang media selepas menyampaikan maklumat berkaitan keusahawanan kepada para peserta program di sini, pada Sabtu.
TONTON: 17 ribu siswazah sertai Program Usahawan PROTEGE

TONTON:

PROTEGE pupuk belia jadi usahawan berdaya saing
BAP terbuka kepada golongan belia termasuklah graduan yang baru menceburi bidang keusahawanan.
Para peserta akan diperkenalkan dengan fungsi dan kemudahan pinjaman yang disediakan selain akan didedahkan dengan latihan dan bimbingan oleh pakar industri melalui modul khas yang telah dirangka dalam program ini.
Program yang dilaksanakan bersama Institut Keusahawanan Negara (INSKEN) itu berkonsepkan coaching and mentoring selama 4 bulan sarat dengan pengisian dan engagement bersama Biz Kaunselor (BK) yang telah dilantik bagi memberi nasihat, bimbingan serta pemantauan terhadap perkembangan perniagaan yang dijalankan oleh setiap peserta.
Dalam pada itu peserta program, Khairul Amirin Khairudin menjelaskan, sistem baharu yang tidak memberi geran satu kelebihan kepada usahawan muda untuk tidak terlalu bergantung kepada bantuan kerajaan.
"Saya rasa sistem baru ini yang tiada geran diberi untuk meneruskan perniagaan adalah sangat baik.
"Kita tidak terlalu bergantung kepada geran kerajaan sebelum ini. Platform ini diberikan secara terus dan tidak ada halangan selain modulnya juga sangat bagus," katanya.
Sementara seorang lagi peserta program, Nazrul Irfanradi Nazarul Anuar mahu kerjasama kerajaan dengan pihak universiti dalam bidang perniagaan dipertingkatkan.
"Kerajaan perlu bekerjasama dengan pihak universiti terutama pusat pembangunan pelajar untuk mereka lebih promosikan bidang ini sebab saya yakin usahawan sangat produktif dan boleh berdiri sama tinggi dengan kesenian, sukan dan kebudayaan," jelasnya.
MED selepas ini juga bakal mengadakan Minggu Usahawan Nasional (MUN) pada 29 Ogos sehingga 1 September diTapak Ekspo Pertanian Malaysia Serdang (MAEPS), Serdang, Selangor.
Selain itu, Selain itu, PROTEGE juga merancang untuk mengadakan program berbentuk Outreach bermula September sehingga November 2019 di tujuh universiti awam dan Program PROTÉGÉ Ready to Work (RTW) pada masa akan datang.
sumber :astroawani