Anak lelaki Osama, Hamza dilapor meninggal dunia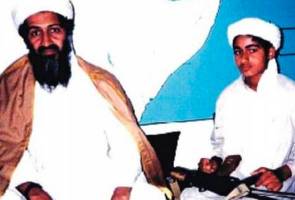 NEW YORK
: Salah seorang anak lelaki bekas pemimpin rangkaian militan al-Qaeda, Osama bin Laden dikatakan telah meninggal dunia sejak dua tahun lalu, lapor The New York Times dan NBC News.
The New York Times dalam laporannya turut mendakwa, Amerika Syarikat (AS) ada kaitan dengan kematian Hamza bin Laden.
Perkara itu didedahkan seorang pegawai AS, namun tidak menjelaskan secara terperinci apakah peranan AS dalam menghapuskan musuh nombor satu negara itu.
Bagaimanapun, kematian Hamza belum disahkan Tentera AS atau agensi perisikan.
Menurut laporan Majlis Keselamatan Pertubuhan Bangsa-Bangsa Bersatu (UNSC), kali terakhir Hamza mengeluarkan kenyataan terbuka adalah pada Mac tahun lalu ketika menggesa monarki Arab Saudi digulingkan.
Sebelum itu, Hamza mengedarkan mesej audio mengugut akan membalas dendam terhadap tindakan AS membunuh bapanya selain berjanji meneruskan perjuangan al-Qaeda.
Osama dibunuh di kawasan persembunyiannya di Abbottabad di Pakistan oleh komando AS pada 2011, sekali gus melumpuhkan rangkaian militan itu yang didakwa bertanggungjawab melancarkan serangan 11 September, 2001.
Pada Mac lalu, AS menawarkan AS$1 juta (RM4.1 juta) bagi mendapatkan sebarang maklumat mengenai Hamza.
AS menyifatkan Hamza sebagai individu yang berupaya menghidupkan semula kegiatan keganasan sama seperti bapanya.
Hamza yang digelar sebagai 'Putera Mahkota Jihad' didakwa tinggal di beberapa lokasi bagi mengelak dikesan termasuk di Pakistan, Afghanistan, Syria dan Iran. – Agensi
sumber :astroawani